Everyone seems to know castor oil – a do-it-all cosmetic used for generations. Pressed from castor plant beans, the oil is cheap and its effects amaze even the biggest skeptics of the all-natural beauty treatments. Keep reading to see consumer's 5 favorite castor oil products. This compilation will help you make up your mind and choose the best castor oil for luscious skin, strong hair and long eyelashes.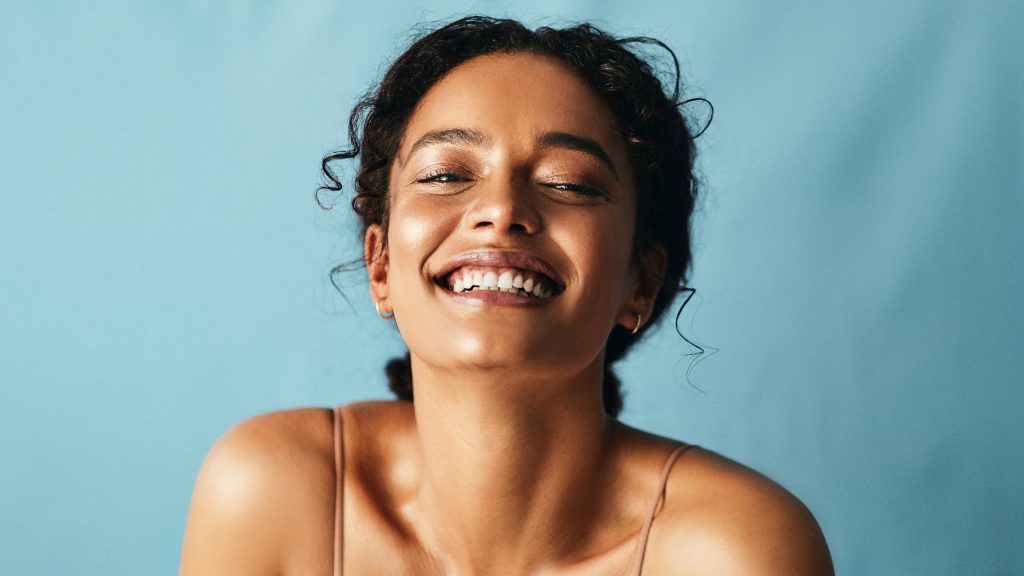 Among hundreds of cosmetic oils that enrich various beauty treatments, castor oil continuously remains on the top. Even more exotic oils like for example argan oil, which is perceived as Moroccan liquid gold, or this popularity-gaining black cumin seed oil didn't manage to oust castor oil. Even though they are widely-used to improve physical appearance, only pure castor oil has been used for decades as a natural remedy for thinning hair and acne-prone skin.
It appears that not only regular consumers are stunned by the spectacular effectiveness of castor oil. In one of the interviews given to Harper's Bazaar, Charlize Theron admitted treating her body and hair with this amazing natural cosmetic. Is this inconspicuous plant oil the secret of her flawless appearance?
Properties of castor oil. How can it help you?
Some people may know castor oil for its medicinal use. No wonder why because it's sold in pharmacies as a product increasing peristalsis and solving the problem of constipation. When used externally (e.g hot dressings), castor oil is proven to relieve pain.
Nevertheless, the cosmetic uses of castor oil – ways in which it can help you improve the looks of the hair and skin – seem to be far more interesting than its health benefits. There are two important things connected with the multitasking abilities of castor oil. On one hand, castor oil products sell well, which is good. On the other hand, this oil is most commonly used as a replacement for more expensive beauty products, which may also seem to be a good thing. However, it turns out that a lot of castor oil products are filled with synthetic substances and hazardous fillers, thus they are far from being all-natural products. Still, when pure, castor oil often works better than regular beauty products, and therefore it's worth using it:
to strengthen weak and thinning hair.
to speed up hair growth.
to deal with dandruff and itchy scalp.
as a conditioner for fuller-looking lashes and eyebrows.
for brittle, breakable and dull nails.
to fight off acne are various skin imperfections.
Castor oil on lashes and brows
It seems that applying castor oil to get longer eyelashes and fuller-looking eyebrows is its most popular use. Undoubtedly, pure castor oil delivers similar effects to the top-shelf conditioners and leaves the hair stronger, fuller-looking and longer. To achieve these results, you have to apply this plant oil to lashes and massage it into eyebrows once a day for 2-3 months. Castor oil is known for being an all-natural substance promoting lash growth. It influences the follicles, makes them stronger and encourages them to work more effectively. That being said, it's plain to see that castor oil offers a natural solution for long, thick and stunning lashes and brows. Thanks to this plant-based substance, lashes and brows stop falling out, get stronger, resilient and shiny – ready for makeup!
Castor oil in hair care
The numerous cosmetic uses of castor oil are appreciated also by hair-maniacs who claim to apply it regularly to grow long hair quicker. Massaging castor oil into the scalp aids not only in strengthening and nourishing the follicles but also it makes the hair thicker and fights off many scalp ailments – it reduces dandruff and soothes irritations. Some people claim that castor oil freed them from the problem of oily scalp. Strong, longer, darker and lustrous hair? Only with pure castor oil.
Castor oil on body and face
Obviously, oil extracted from castor beans can be incorporated in many skin treatments, provided that you manage to find a high quality product that is cold-pressed and organic. This is a wonderful beauty product whose moisturizing action is appreciated mostly by those with dry skin and chapped lips. Apart from retaining moisture, castor oil is also antiseptic, meaning that it reduces acne and manages oily glands. With castor oil you are just one step away from having clear skin that doesn't bother you with unhealthy shine and imperfections.
Using castor oil for OCM, that is oil cleansing method, has also become highly popular. Pure castor oil is able to balance skin because it's water-soluble and proves itself effective in dealing with grime and oils secreted by glands. Lastly, removing color cosmetics with oil blends containing castor oil is a really good idea.
Consumer's 5 Favourite: The Best Castor Oil Products
When you finally decide to enrich your daily beauty routine with castor oil, better choose a product that isn't only nutrient-dense but also suitable for various skin and hair treatments. Take a look at the top 5 castor oil products!
NANOIL CASTOR OIL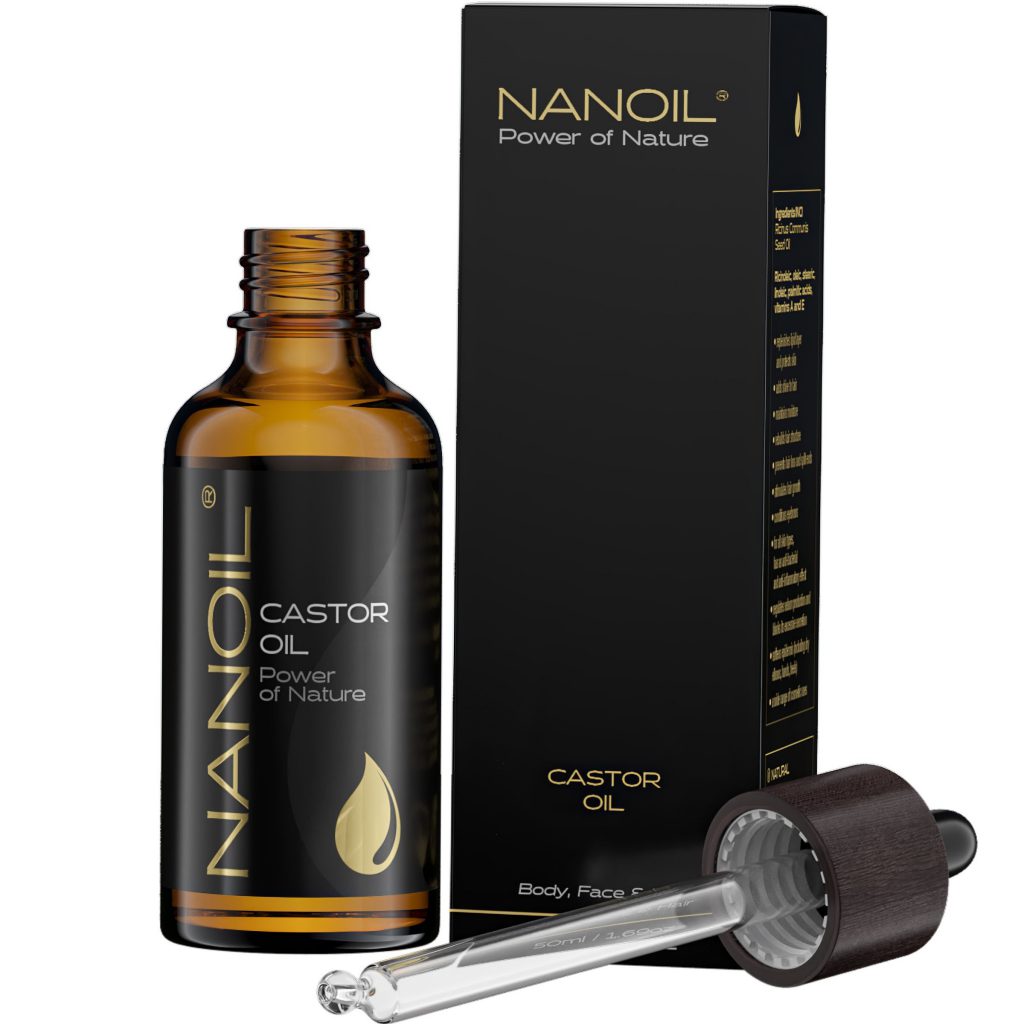 Nanoil Castor Oil is the best one among all castor oil products available on the market. Consumers often reach for this product because it's 100% natural, cold-pressed and unrefined oil extracted from castor plant beans certified by Ecocert. Other qualities that make Nanoil castor oil one of the best-selling products are its lightweight consistency, fast absorption and the fact that it can be used by vegans – indeed, it wasn't tested on animals. Nanoil Castor Oil is sold in one size: 1.69 fl oz / 50 ml.
As far as its uses go, Nanoil castor oil is a multi-purpose beauty product. This means that it can be applied to hair, the scalp, face, brows, lashes and even beard. This pure plant oil is proven to promote hair growth, improve moisture and resilience, add shine. When it comes to skin care, castor oil gives amazing results when used as a cleansing agent that soothes irritations and balances skin's pH. It's suggested using it on a day-to-day basis to keep discovering new applications and properties of Nanoil castor oil.
For more information – www.nanoil.us
ZOË AYLA CASTOR OIL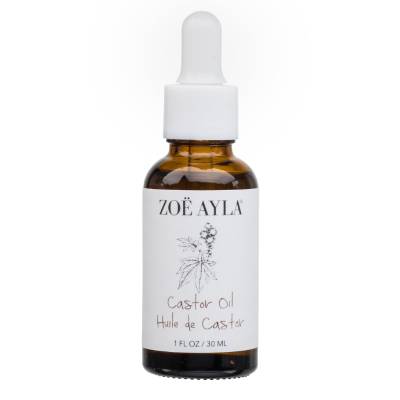 Castor oil from Zoë Ayla Beauty Essentials is one place behind, but still on the podium. This is another pure castor oil free from unnecessary fillers, thus perfect for being used as a carrier oil for customized oil blends, e.g. with essential oils. It doesn't have any color and is fairly lightweight. Zoë Ayla Beauty Essentials castor oil is sold in one size: 1 fl oz / 30 ml.
Zoë Ayla Castor Oil serves all skin types, including hyper-reactive skin as well as frizzy and dry hair with splitting ends. As it's typical of pure plant oils, it replenishes hair with moisture and helps tame unruly hair; it leaves skin soft and radiant. Castor oil reduces skin imperfections and unclogs pores. Lastly, it alleviates many scalp ailments, such as dandruff.
BRIOGEO CASTOR OIL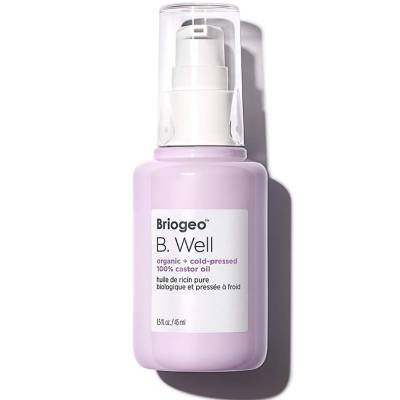 Another recommended product is this cold-pressed castor oil by Briogeo B.Well Organic – a plant oil certified by Fair Trade and Fair for Life. This is pure and organic castor bean oil, rich in fatty acids and vitamin E. Even though it's vegan-friendly, this castor oil is one of the costliest natural beauty products included in this list. In fact, this product becomes even more expensive after realizing that its size isn't big – 1.52 fl oz / 45 ml.
Although Briogeo castor oil is mainly designed for all hair types, for dry, brittle and thinning hair specifically, it also serves scalp, body, face, lashes and brows pretty well. It's characteristic feature is the ability to moisturize, protect and condition chosen body parts. Apart from that, castor oil nourishes and repairs, yet for some reason the producer doesn't advertise this product as a hair growth booster.
SATIN NATUREL CASTOR OIL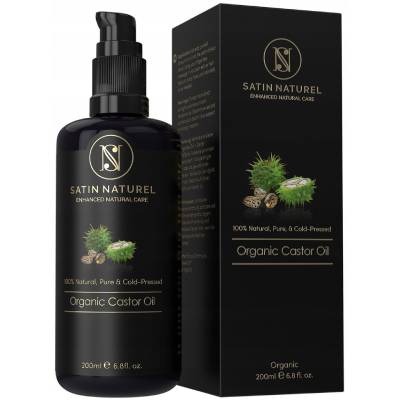 Behind the podium, but still in TOP 5 best castor oils, there is this German-brand Satin Naturel product. This is 100% pure, cold-pressed and organic castor oil perfect for hair and skin treatments. It's sold in an astonishingly elegant, black bottle storing 6.76 fl oz / 200 ml of the oil, which is more than regular castor oil products.
What can you use Satin Naturel castor oil for? With this product you can expose your hair, skin and nails to various beauty treatments. Also, it can replace moisturizers and a strengthening conditioner, but most of all this product provides essential protection, e.g. from losing moisture. It leaves hair more resilient and shiny, strengthens nails and helps skin restore its healthy and youthful-looking appearance – provided that it's used regularly.
NAISSANCE CASTOR OIL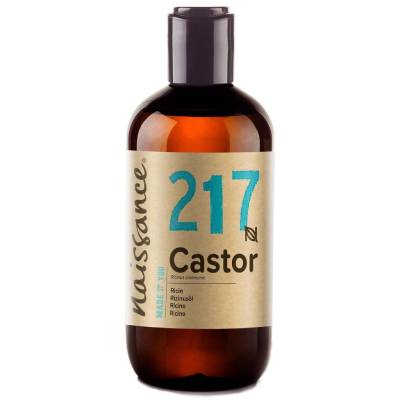 Last but not least, the offering from Naissance. Cold-pressed, natural and vegan castor oil whose composition wasn't enriched with any unnecessary fillers. Since it's pure, it can be applied directly to a chosen body part. Although Naissance castor oil comes neither with a dropper or pump, it's sold in a dark glass bottle storing as much as 8.45 fl oz / 250 ml of the product.
What's interesting, Naissance castor oil comes from India. It's unrefined, which means that it preserves all of its precious nutrients. This in turn makes it incredibly good at conditioning, repairing, nourishing, stretching and promoting hair growth. Sadly, this oil is rather gooey which makes the application a little bit troublesome. To make it slightly easier, it's suggested thinning Naissance castor oil either with other plant oil or water.