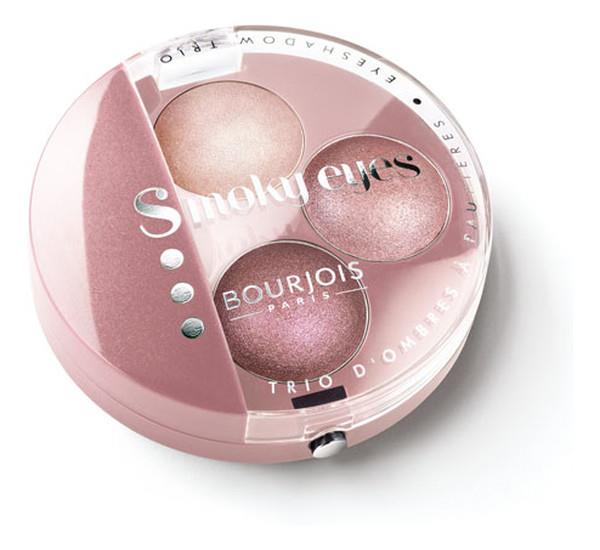 Bourjois is a French brand famous for its pressed eye shadows and blushers since 1863. Over 150 years of tradition make Bourjois a pioneer in the filed of make-up cosmetics. Eye shadows and blushers locked in small, round and colourful packagings are the hallmark of the company and the object of desire of many women. Now, the brand has decided to go a step further… to be precise 3 steps, because they created palettes of 3 pressed eye shadows – with exceptional, well pigmented and harmoniously matched shades, which will allow performance of smoky eyes effect on your eyelids.
The line of triple eye shadows from Bourjois surprises us with the diversity of shades. There are colours of delicate beige, pastel pink, cold and warm green in khaki version, gold, copper, grey, turquoise as well as shades of sky blue and navy. All colours are really beautiful. Pressed make-up cosmetics have this advantage that with them are possible two versions of make-up: subtle with dry eye shadow and intense with wet application.
Triple eye shadows from Bourjois are chosen in a way that makes colours gradually intensify. Thanks to it, possible is creation of full eye make-up: from upper eyelid, through delicate, then more intense accents to expressive line on eyelash root line.
All you need to do is to highlight the look with delicate, the most subtle eye shadow in the set by applying it on the inner eye corner and below brow ridge. Thanks to it eyes will look rested and brows raised. The darker shade, with medium tone, should be applied on the eyelid. This step makes make-up gain more expressiveness and the iris will be underlined. The darkest shade from the three eye shadows apply on the eyelash root line, or on the external eyes corners. That provides the entire look with more intense appearance and true depth. If you care about delicate make-up, you can easily use only two shades and skip the darkest one. Of course, you can always mix palettes and use some brown shades with violets or green.
Triple shades from Bourjois are perfectly made set, which consists of everything you need for full eye make-up.