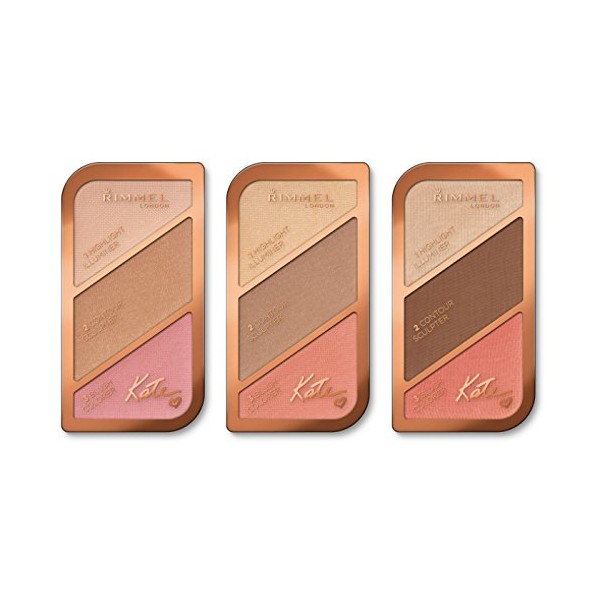 Face contouring is the hottest trend of the last season. All bloggers and Instagram users supply us with the tips on how to do it correctly, which cosmetics we should use and which methods are the best. Fortunately, you do not have to follow all their posts or search through the thousands of photos. After all, you now have Kate Sculpting Palette from Rimmel, which will make face contouring so much easier.
New Kate Sculpting and Highlighting Kit from Rimmel is a truly universal cosmetic. It combines highlighter, bronzer and blusher. Moreover, it is available in three shades. Golden Sands is perfect for women with fair skin, while Coral Glow will complement best those of you with a bit darker skin complexion. However, Golden Bronze is the right choice for women with dark skin. On the reverse side of the cosmetic was placed brief instruction and a picture showing the method of face contouring. Sadly, the cosmetic isn't supplied with a mirror or applicator.
Kate Sculpting Palette from Rimmel has delicate, creamy – powder consistency, which allows quick and enjoyable application. The cosmetic provides natural finish, covers all the face's flaws and emphasises its assets. It gently makes skin radiant and fresh. Furthermore, remember that for face contouring thin layer of the product, administered evenly, is enough. And how should you do that?
With soft brush apply highlighter on: the bridge of the nose, between eyebrows, under the eyes, on top of the upper lip and under the brow ridge. Bronzer administer on temples, sides of the nose, under the cheek bones and chin's tip. However, blusher apply on the cheek bones. Do not forget to thoroughly blend all cosmetics. And did you know that highlighter, bronzer and blusher from Kate Sculpting Palette can be used also as eye shadows? This cosmetic is perfect for creation of romantic and very feminine eye make-up or so called 'no-make-up' look.