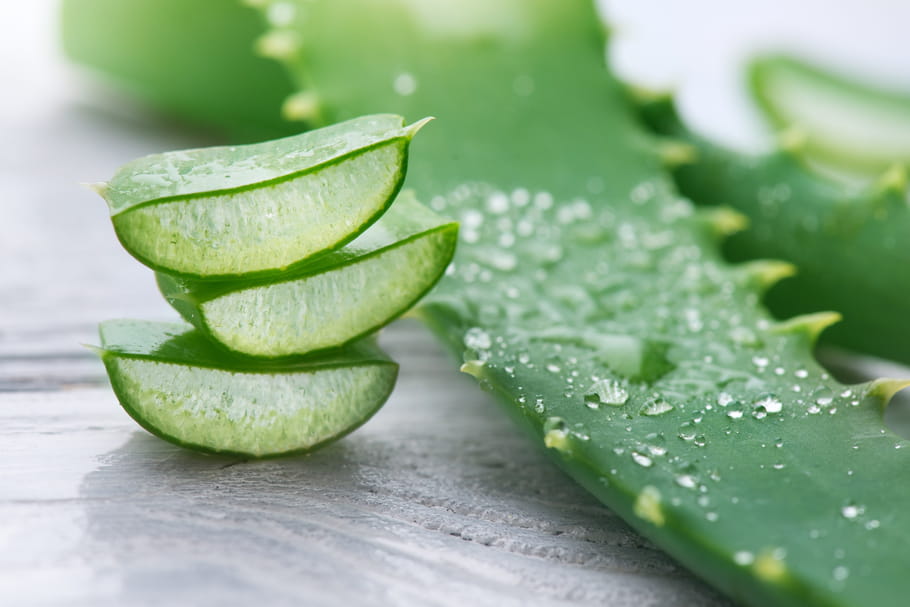 Face care is one of the most popular and best uses of aloe. Green, thick leaves house over 200 skin-conditioning substances such as vitamins and minerals. Aloe juice as well as gel and flesh have plenty of skin benefits. Discover the most effective ways of using aloe in your face care routine!
How to use aloe for face care?
1. Aloe gel instead of moisturizer
An aloe gel successfully replaces a moisturizer. To work like one, the gel must be thick so choose a fine-quality product, that is high in aloe vera. This way you make sure your skin has optimal supply of moisture, plus you deliver nutrients and soothe the irritations. Aloe also works as an anti-inflammatory agent. A sure benefit of using aloe as a moisturizer is you don't risk clogging the pores and you keep the skin fresh all day long. Plus it's a perfect summertime moisturizer.
2. Aloe before a beauty oil
Aloe gel makes a perfect base for a vegetable oil. It gives extra beauty benefits and aids the oil in penetrating the skin. Aloe is like a lightweight, gel-like emulsion – apply the gel after a toner and before a chosen oil. By following the order, you provide hydration and a protective shield against outside aggressors. Aloe makes the oil lighter and allows the skin to absorb it more quickly so it leaves no greasy, heavy film on the surface.
3. Aloe as a face serum
Ideally you should reach for a professional serum that contains other skin-conditioning substances and components transporting active ingredients into deep skin layers. Aloe-based serum is one of the best skin care product you should go for – regular use brings the fastest effects and skin repair.
4. Aloe as a makeup primer
Applying aloe gel or serum again after a moisturizer and before foundation lets you enjoy longer-lasting makeup. Use aloe as a makeup primer to keep the skin in excellent shape. You can even mix a few drops of aloe with foundation to create a lightweight, moisturizing formula perfect for the summertime or when you work in air-conditioned rooms.
5. Aloe to treat acne, spotty, inflamed skin
You can use soothing and anti-inflammatory effect of aloe to fight pimples, acne breakouts and inflammation. Reach for aloe from your home garden and take a leaf – cut it in half, take out the flesh and put it on a blemish-prone skin area. You can also soak a cotton pad in aloe juice and press it to the skin.
6. Aloe face mask
You can use aloe juice, gel or even aloe serum for making any skin care mask you want. Mix aloe with honey, cosmetic clay, hydrosol, yogurt, banana – this way you create a unique, all-natural face mask to cleanse the skin, moisturize it and fight inflammation. If you enrich aloe gel with olive oil, rose oil or argan oil and combine it with egg white, you get an amazing skin-firming face mask.
7. Aloe face toner
Choosing aloe juice is the easiest way. Just make sure you pick a natural product free from sugars and preservatives. It will let you freshen and moisture the skin and soothe irritations. You can also make a richer version by mixing aloe juice with a flower water and enriching the blend with vitamin E.