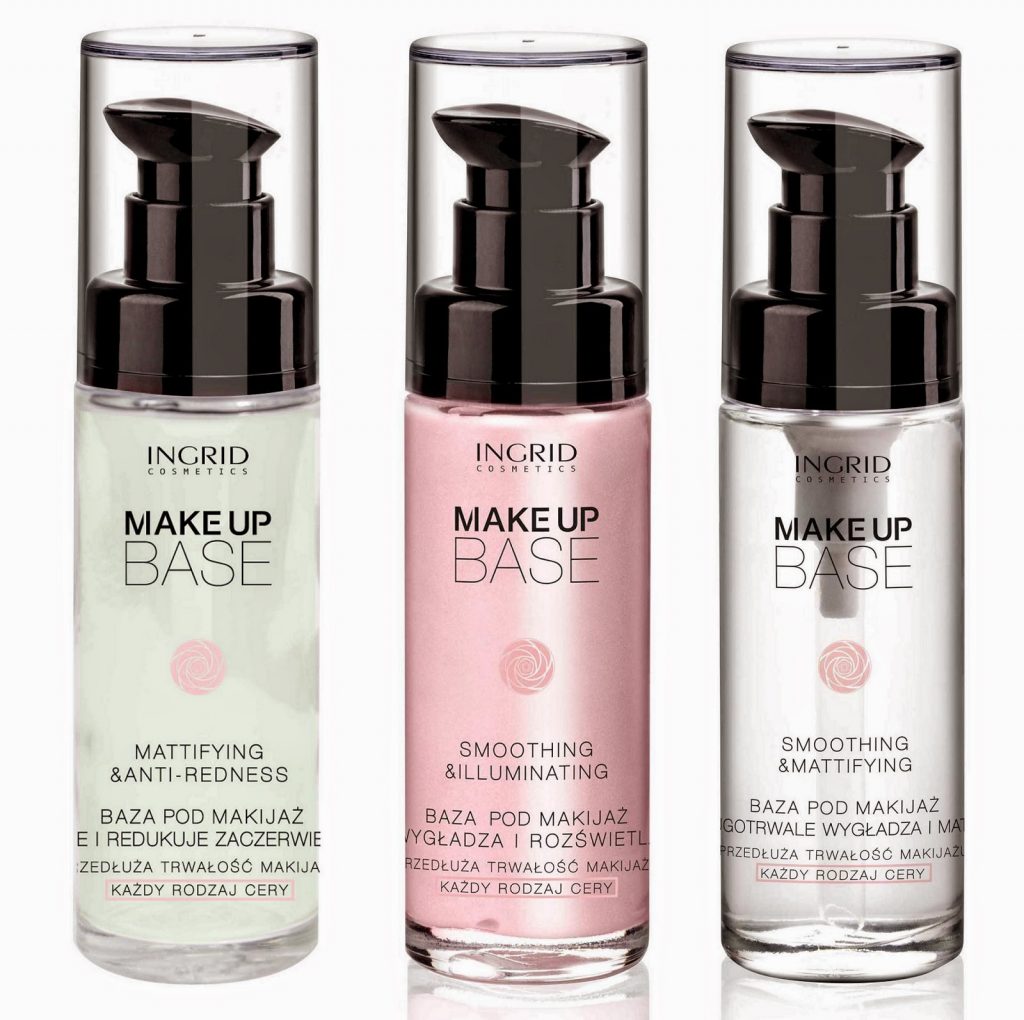 Make-up base is a first rule of every make-up. Its main task is to make skin complexion even and extend the durability of make-up. On top of that, it mattifies and smoothers. It is truly necessary for oily and combination skin, because of its shine control. On the other hand, women with dull and fatigued skin deprived of glow, should reach for make-up base that can make it radiant. Moreover, make-up base can correct skin complexion.
Taking into consideration that every skin type has different needs, INGRID created 3 perfect make-up bases for all of them.
1. INGRID Make up Base, Mattifying & Anti Redness
It is a green base that combines properties of concealer and make-up base. It can be perfect for couperose skin (conceals redness) as well as normal, oily and combination skin (mattes and makes skin complexion even). This make-up base leaves skin with satin effect and makes skin soft in touch.
2. INGRID Make up Base, Smoothing & Mattifying
Colourless make-up base provides skin with effect of stronger matte than its twin, green version. This make-up base beside matte effect also in great way makes pores and minor wrinkles less visible. It can be used before application of foundation or as an individual product for mattifying and smoother of skin.
3. INGRID Make up Base, Smoothing & Illuminathing
If your skin is fatigued and deprived of radiant appearance, you should try pink make-up base from INGRID. It holds smoothing properties, but also very effectively makes skin radiant. It is a combination of white pearl with subtle pink pigment. Small pigments reflect light and optically smoother minor wrinkles. Skin imperfections are being camouflaged for many hours to come. The make-up base consists of hyaluronic acid – an ingredient of natural origin, expected to provide young appearance and elasticity.
Well picked make-up base is a first rule of perfect make-up. If chosen wrongly, it will make foundation not absorb well in the skin. It is also important to avoid use of too much of make-up base – a drop can easily cover an entire face.