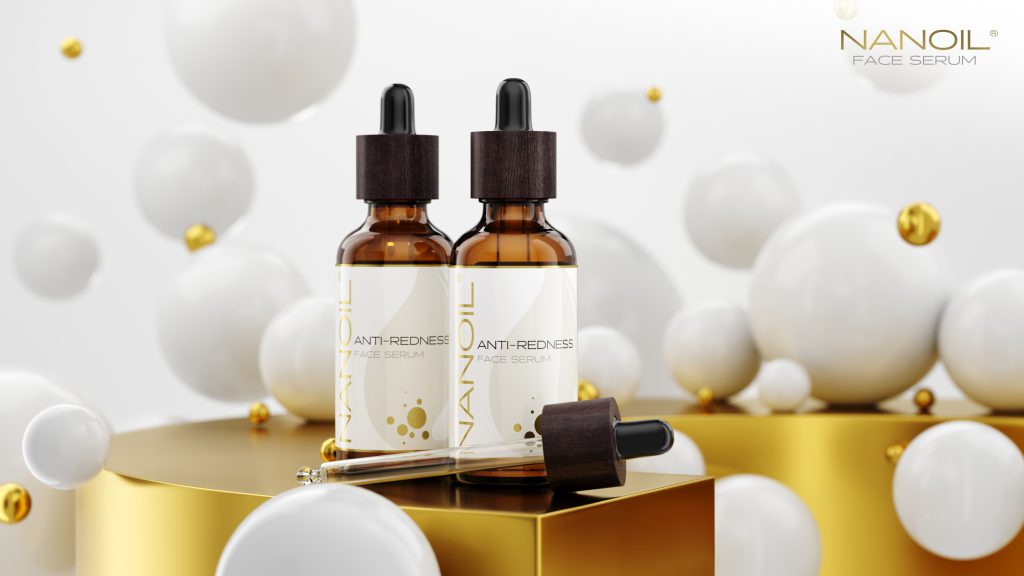 Do you sometimes feel like your daily skin care is not enough for your complexion? Try a Nanoil Face Serum and open up to new possibilities of your beauty regimen. Start feeling good in your own skin.
Choosing products which help us care for skin quickly and effectively is specially important for skin prone to redness and broken capillaries. We need a good cosmetic, such as Nanoil Anti-Redness Face Serum.
The best serum for broken capillaries
Without doubt Nanoil Anti-Redness is a must-have for all those who fight with broken capillaries. It is light-textured, runny and free of oils, which is very beneficial for this skin type. Remember that easily-irritated skin likes products which are soaked up fast and don't weigh it down, and that's why Nanoil Anti-Redness is a perfect choice.
Another key fact: soothing irritation and protection are the two key things for rosacea-prone skin. Nourishing or moisturizing are secondary.
Nanoil Anti-Redness Face Serum
Based on water, not greasy oils.
Contains 4 botanical extracts which care for our skin.
Designed for reactive skin and broken capillaries.
Can be used on skin irritation regardless of its origin.
Simple formula free of parabens, PEGs, etc.
Skin-soothing and conditioning ingredients
The gentleness of Nanoil Anti-Redness Face Serum flows from the components. If you scan the ingredient list (INCI is available on the brand's official site), you'll see that most of the formula is made up of plant-derived substances. Is it a good thing? Definitely. Natural cosmetic ingredients are heaven for rosacea-prone skin.
Here are the four extracts with the best properties:
Tilia Cordata Wood Extract, linden extract with an anti-inflammatory and alleviating effect.
Cupressus Sempervirens Seed Extract, cypress cone extract which restores skin balance.
Aesculus Hippocastanum Seed Extract, buckeye extract adding elasticity and strengthening weak capillaries.
Boerhavia Diffusa Root Extract, super-strong antioxidant extracted from a plant popular in India, among others.
Effects will be a pleasant surprise
Why is Nanoil Anti-Redness the best serum for solving problems with broken capillaries and reactive skin? Because it starts improving the skin instantly. It doesn't take weeks to handle the biggest problem of this skin type, namely redness and irritation. Relief, hydration and less bothersome symptoms are the results you get after just one use. Of course changes in the face look need slightly more time.
Reduced spider veins, more even skin tone and less visible pigmentation spots are the effects that you'll enjoy after using it regularly for around three weeks.
What's important, Nanoil Anti-Redness Face Serum provides protection against all irritants every day, minimizing the risk of further irritation. This formula strengthens weak capillaries, sealing them, so the typical symptoms of rosacea or broken capillaries fade gradually. It does it all for sensitive skin – protects and prevents.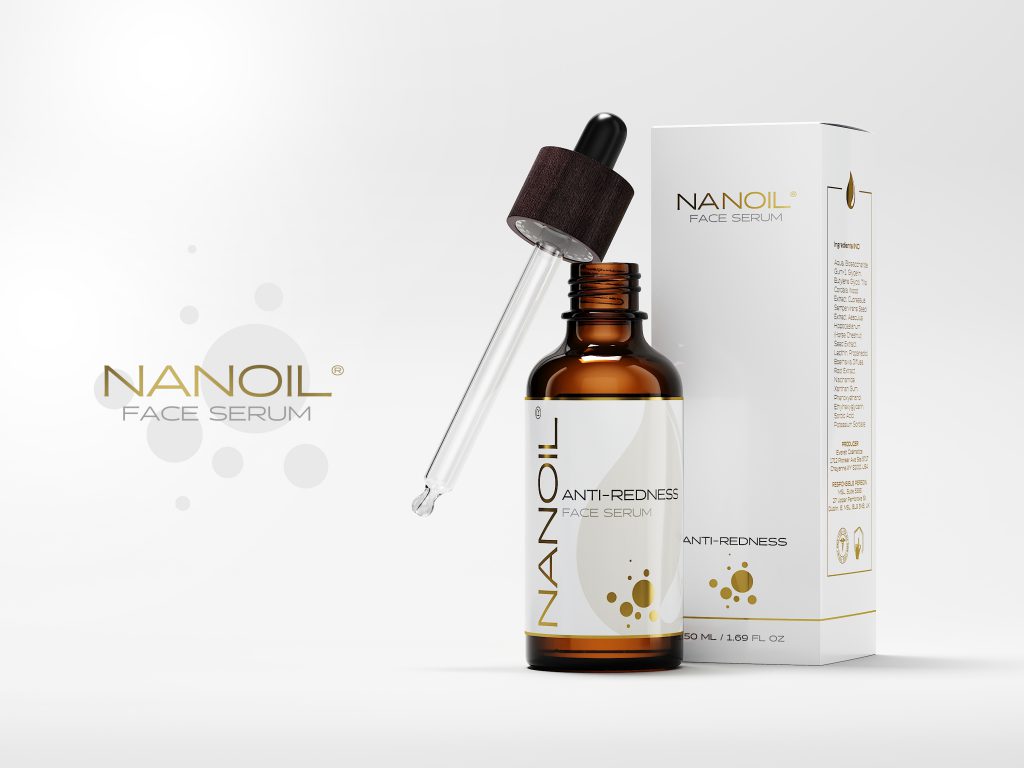 Where to buy Nanoil Anti-Redness Face Serum?
You can buy it and other Nanoil serums at the brand's official online store. If you place an order in the morning, you may have it delivered on the next day. Nanoil products are also available at prestigious salons and beauty supply stores.