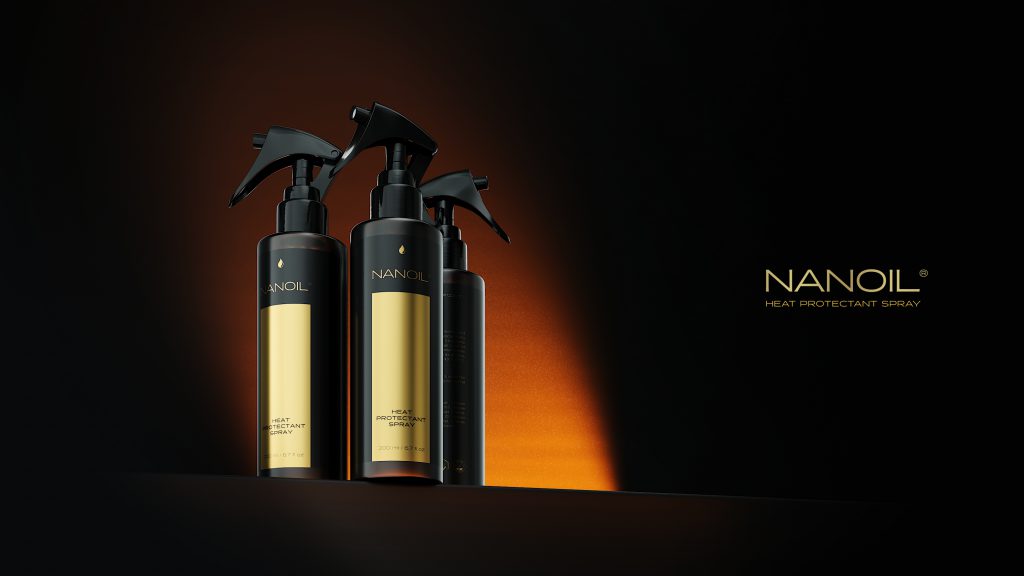 Heat protection is extremely important, especially if your favorite way of doing the hair involves hot tools like curlers, flat irons or dryers. The heat deprives hair of water, leaving it stiff and dull. Unfortunately – such changes are irreversible. However, we can prevent them by using a Nanoil Heat Protectant Spray – it will shield your hair from temperature of 430℉/220℃. This product offers much more than thermal protection, though. Keep reading to learn about all the benefits it brings.
Why is thermal protection so essential?
Hot airstream from a dryer causes cuticles to open, which means hair can be damaged more easily. You won't have lovely, healthy hair without suitable heat protection. Give your hair what's essential. Take hold of a Nanoil heat protectant spray and secure your strands every time you heat-style them.
Nanoil Heat Protectant Spray – 100% protection
Millions of women worldwide have fallen in love with the Nanoil heat protectant. We're not surprised because next to protecting the hair from extreme temperatures, it maintains hydration and nourishment. The product largely improves the condition and appearance of hair. The ends stop splitting and hair shines healthily thanks to added natural proteins from silk which have an extra nourishing effect. The ingredients, including also vitamin E, make hair smoother as well as enhance the repair process.
What benefits does the Nanoil Heat Protectant Spray bring?
This thermal protection spray brings numerous benefits for our hair:
it shields from extreme temperatures
it delivers smoothness and moisturizes
it makes hair softer
it tames unruly strands
it holds out for a very long time and smells lovely
it makes strands easier to detangle
it has smooth texture
it doesn't weigh hair down
Make sure your hair is safe and damage-free thanks to the Nanoil Heat Protectant Spray. With it in your hair care kit, you won't need to give up on your favorite heat-styling tools. You can get carried away curling, blow-drying and straightening! Just spray the product on first. Are you wondering if this spray is right for your hairdo? Nanoil works brilliantly on every hair type and porosity. It leaves a very delicate layer on hair which protects from all possible injuries, and locks in hydration. You can use Nanoil Heat Protectant Spray on damp or dry hair, several times a day, depending on your needs. Reach out for the elegant bottle whenever it's necessary. Boast a fabulous, luminous hairstyle all day!
Nanoil Heat Protectant Spray – where to buy it?
You can buy it through www.nanoil.us – the official store with other amazing products. You can create your own customized haircare and styling set. The discounts for ordering more items are encouraging for sure.