Blow drying and straightening are known for doing permanent and irreparable damage to the hair. Being aware of this possible risk, hair dressers use heat protection products while styling their clients' hair. Luckily, now every lady who minds her mane can take advantage of the power of heat protectants at home. But how can she choose right when the shops offer so many cosmetics promising strong heat damage protection? If you're one of those girls, we've reviewed the top five products that will keep your hair from frying.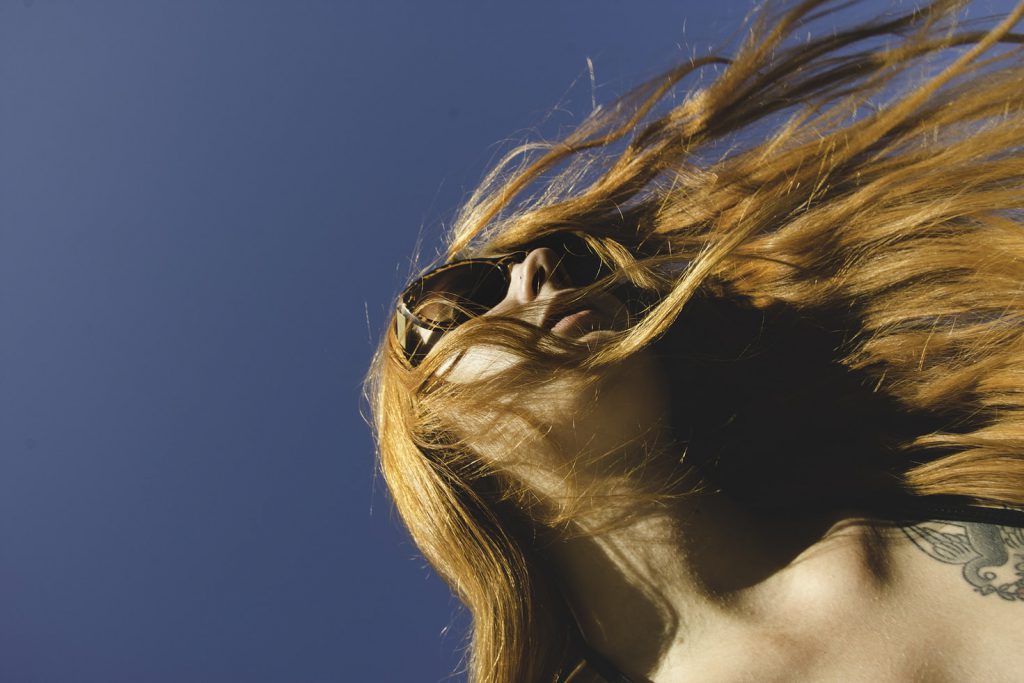 Using high temperatures to create a desired hairdo forces the moisture that is in the hair to go away. Hair that lacks water gets rough, dull and brittle. It's also worth realizing that heat increases the risk of thinning and splitting. Does it mean that you need to arrange the strands with a ponytail or a bun for the rest of your life? Not at all. If you still want to get fabulous blowouts without striping moisture off the hair, incorporate a heat protectant to your daily beauty ritual. Only this type of product is able to stop your hair from losing precious water.
How does a heat protection spray work?
Heat protection sprays aren't just some kind of a hair stylists' figment that came into existence just to earn them more money. This product is given an important task to do, which is isolating hair fiber from the heat produced by a blow dryer or a flat iron. In order to do its job properly, heat protectant has to:
be formulated with ingredients that speeds up styling
contain nutrients and other hair-loving substances
be non-greasy to prevent oily and flat hair
promote smoothness and shine- be easy to use
combat daily aggressors
What should a heat protection spray be made from?
If you want to use only high-quality heat protection that delivers 100% promised results, you need to find a product formulated with the right ingredients. Only well-selected substances of proven effectiveness guarantee that the cosmetic will protect your hair and keep it nourished, thus strong and healthy-looking. What should a heat protection spray be made from then? The next time you're shopping for a heat protection spray, check whether it's formulated with some of the following substances:
proteins (e.g. keratin, silk, wheat)
seed extracts
vitamin E
vitamin B5 / panthenol
plant-based oils
There are also substances that a heat protection spray shouldn't contain. To pick the best product for your hair, try to eliminate:
silicones
parabens
alcohol
SLS-s
5 Heat Protection Sprays You May Find Perfect for Your Mane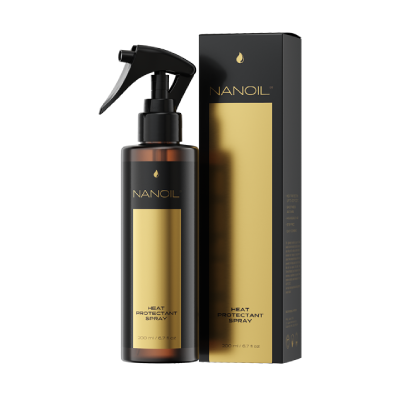 1. Nanoil Heat Protectant Spray
Beauty bloggers and hair stylists from all over the globe agree that Nanoil Heat Protectant Spray lives up to their expectations, keeping their hair safe during heat styling. And this effect goes hand in hand with an affordable price, which isn't a common thing, isn't it? This product is irreplaceable whenever you want to expose your strands even up to 440 degree Fahrenheit / 220 degrees Celsius to create fabulous styles. This non-greasy thus weightless formula brims with a number of ingredients that hair loves – silk proteins and vitamin E are just two of them. Apart from separating the hair from the heat, the formula also nourishes, smooths out and tames the strands. To make the best out of Nanoil Heat Protectant Spray, apply it either to damp or dry hair and style it the way you like. Downsides? Maybe the fact that this spray is available only online, eg. nanoil.us, but it's worth ordering.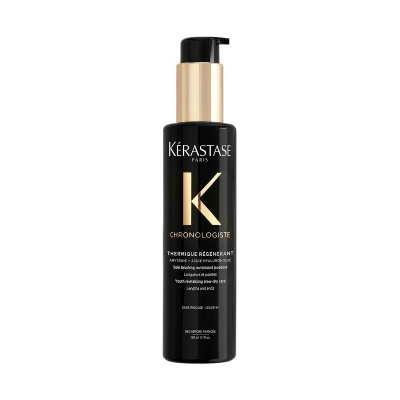 2. Kerastase Chronologiste Thermique Regenerant
This brand has fans in all corners of the word. Their heat protection hair milk promotes smoother and nourished hair, which translates into increased manageability and easy styling. Good news for those who like scented beauty products because the aroma of Kerastase Chronologiste Thermique Regenerant is out of this world, made up of rose, musk and tree notes. Not only does this heat protectant leave your hair smelling good but it also doesn't allow water to evaporate, even if you style your hair using a flat iron set to 440 degree Fahrenheit / 220 degrees Celsius. What are other ingredients that are worth mentioning? Hyaluronic acid and vitamin E are definitely two noteworthy constituents. If you're looking for UV protection and something that could help you reduce frizz, Kerastase Chronologiste Thermique Regenerant may be the right product.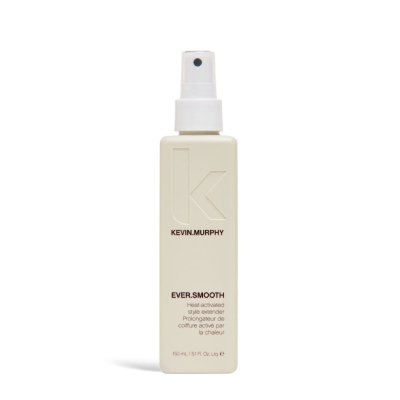 3. Kevin Murphy Ever Smooth
You probably expected to see one of Kevin Murphy's products here. This brand is well-known and recognized among top hair stylists and those who love treating their hair with high-end beauty products. If you can afford a bottle of Ever Smooth, you won't be disappointed! Made up of quality ingredients of nature origin, this heat protection spray does more than just keep your hair from frying. The deeply nourishing formula contains lemon aspen fruit extract, callitris leaf extract, callitris columellaris wood extract and lavender oil – impressive, isn't it? This mixture promotes smooth hair and lasting nourishment. Last but not least, Kevin Murphy Ever Smooth locks a style in place so you don't have to bother about touch-ups.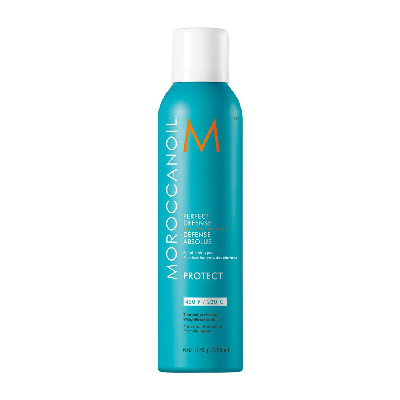 4. Moroccanoil Perfect Defense Protect Spray
The blend of plant-based oils teamed with panthenol can do wonders, especially when applied to the extreme dehydrated and damaged strands that split. However, if your hair isn't in such a miserable condition, be careful with using Moroccanoil Perfect Defense Protect Spray because it may leave you with a flat style. But if you don't use too much, your mane should be perfectly fine. This spray is ideal for protecting the hair from the heat that all styling tools give off. Additionally, it also shields the strands against the scorching sun – after all this cosmetic contains Moroccan argan oil. Those who can afford Moroccanoil Perfect Defense like it for being closed in a deodorant-like tin.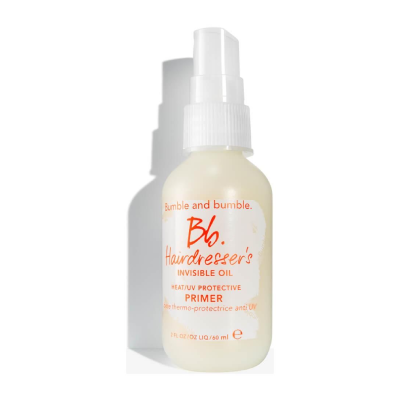 5. Bumble And Bumble Hairdresser's Invisible Oil
Last but definitely not least, a product that many users worldwide buy regularly – Bumble And Bumble Hairdresser's Invisible Oil. This one is also formulated with plant-based oils, and their number is pretty impressive: coconut oil, argan oil, macadamia oil, sweet almond oil, grape seed oil and safflower oil! Is it good at shielding hair against high temperatures? Sure, it is. Even the extremely damaged and frazzled strands can be protected with Bumble And Bumble Hairdresser's Invisible Oil. Although the formula is described as ultra-lightweight, we suggest starting off with the travel size version first to avoid volume-deprived style.