Are you searching for a mask which really works? Are you trying to repair your hair and bring its health and brilliant shine back? Hair care is a challenge. Many products fail to give us real results. Currently, women prefer to stay home and revitalize the hair without budget-ruining treatments. And here's why we share reviews of the best masks that make you look as if you visited a hair salon!
Big Questions About Hair, Daily Hair-Care Routine, and Keratin!
1. What causes hair damage?
It is important that you don't focus merely on using hair-repair products but also know how to avoid damage. Obviously, the major reason why hair loses health is unsuitable cosmetics as well as heat (setting high temp on a dryer, hot tools), tugging the hair while combing and overenthusiastic towel-drying (so-called mechanical damage).
2. How to care for hair to avoid damage?
Above all else, choose hair-type-matching products and treat your hair gently. Remember that a conditioner is not enough to keep hair healthy. That is why it's great if you go for a mask once a week or even twice a week if hair is damaged. You need to let it sit in for a minimum of 15 minutes so it can strengthen the hair.
3. What makes keratin so important?
Keratin builds hair. Each and every hair is made from it. This powerful protein builds strong and healthy hair so when its level diminishes, the hair automatically gets worse. Additionally, mechanical injuries cause the gaps in the keratin cuticle layer. Keratin is produced in hair bulbs but the production may be disturbed because of stress, unsuitable hair care, medications or hormonal changes. That is why it is so important to regularly replenish the protein. A good hair mask packed with keratin is a fundamental hair-care product.
4. What makes a good keratin mask?
The cosmetics market is filled up with keratin masks. How do you know which one works best? The price may be misleading: a pricey mask isn't necessarily better than the one costing half its price. It's good to check the amount of keratin in a mask (ideally it is a main ingredient without the overload of too many other substances that are likely to make the protein less effective). Also, make sure it contains fine-quality keratin (hydrolyzed keratin is the best as it penetrates the deepest layers and works most intensively).
---
Don't worry! You don't need to analyze complicated formulas and compare them. We have done it for you. Three most powerful keratin hair masks emerged. The whole wide world knows them. Hairdressers, models, and influencers recommend them. Thousands of girls learnt that buying a good keratin mask is like investment in gorgeous, strong, and healthy hair. Why don't you see it for yourself? Here go the three keratin masks working wonders on hair.
TOP 3 Keratin Hair Masks that Rock!
1. Nanoil Keratin Hair Mask
Packed in a 300-ml jar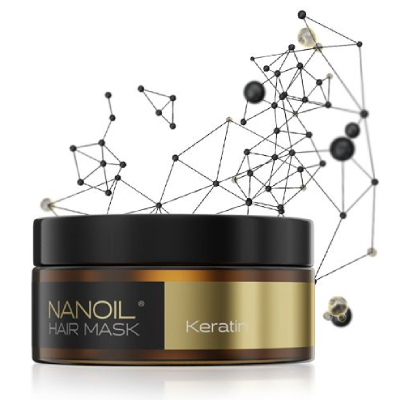 Nanoil is a topper. Millions of women all over the globe rave about this mask and we are sure you will love it too for being so smooth, lightweight, easily applied and rinsed, as well as not weighing hair down. It smells lovely but the great effect on hair is what's best about the product. The hair feels more resilient and looks prettier after just one application. It gets smooth and lustrous. You won't help touching your own tresses. The smoothness it gives it outstanding! Nanoil seals the cuticles and secures them against damage, as well as fixes damage in the hair shaft with the best form of keratin (hydrolyzed). Its effect is upgraded by panthenol – an ideal "companion" which intensifies repair and enhances absorption of kerain. Panthenol also has a beautifying effect making hair shinier, smoother, frizz-free and manageable.
Nanoil Keratin Hair Mask – Reviews
This mask is definitely top-ranked by users. It gets lots of positive reviews as a product that works from the very first use but also repairs damage, ensures hair health, strengthens and brilliantly smooths and tames hair in the long run. Hair is strong and looks fabulous, stops thinning, is free from frizz or static, and strong from roots to ends.
For more information visit – www.nanoil.us
2. Global Keratin Hair Conditioner Masque
Packed in a 200-ml jar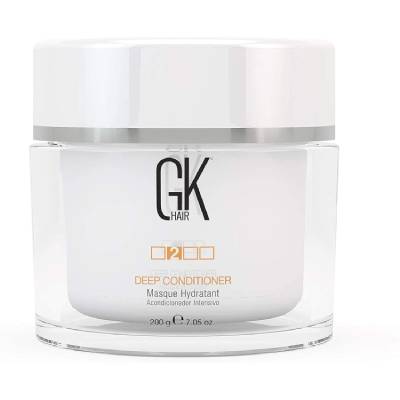 A high price and small packaging aren't good for our budget but we must say this mask is effective. Hair care experts like it for the smoothing and moisturizing effect on extremely dry hair. It slightly softens the hair and calms the scalp. Global Keratin Hair Conditioner Masque is perfect for dry and normal hair; unfortunately it may be too thick for greasy, heavy, low-porosity hair. The formula is scalp-friendly (free from chemicals) and based on keratin molecules blended with plant extracts. Global Keratin Masque improves condition of hair, tames unruly strands, prevents tangling and eliminates static flyaways. Regular application keeps hair shiny and silk-like. As the only mask it is rich in Juvenix Complex which is a mixture of plant-derived ingredients for healthier hair and protection against UV, pollution and everyday styling routine.
Global Keratin Hair Conditioner Masque – Reviews
This mask is popular because of an excellent effect on dull, dry hair. It instantly tames unruly strands, moisturizes, and prevents frizz and static. Regular application improves hair health and ensures resistance to damage.
3. Keune Care Keratin Hair Mask
Packed in a 200ml/500ml jar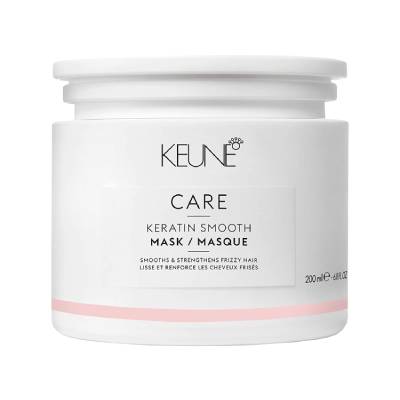 Rich, nourishing mask based on keratin, provitamin B5 and shea butter. The thick formula is good for normal (you need to check it on your hair, though, because it may be overburdening) as well as dry, damaged and unruly hair. It comes in two size versions but even the smaller one costs a lot. Is it good value for money? Hairdressers say it's great treatment for extremely damaged hair; ideally when used with other keratin products from Keune. As far as effects go, the hair feels moisturized after the first use, is smooth, easy to comb out and has a lovely shine. The unique Quat complex is supposed to protect against heat styling damage. The mask also prevents dryness and sun damage so it's a perfect choice for the summer days to tame the hair and prevent breakage. The formula is a blend of maracuja, baobab and monoi oils. It also contains beneficial minerals.
Keune Care Keratin Hair Mask – Reviews
The keratin mask by Keune gets very high opinions but it doesn't have as many fans as the previous offerings. The high price definitely doesn't add to its popularity. Still, the effects make it stand out against other masks.