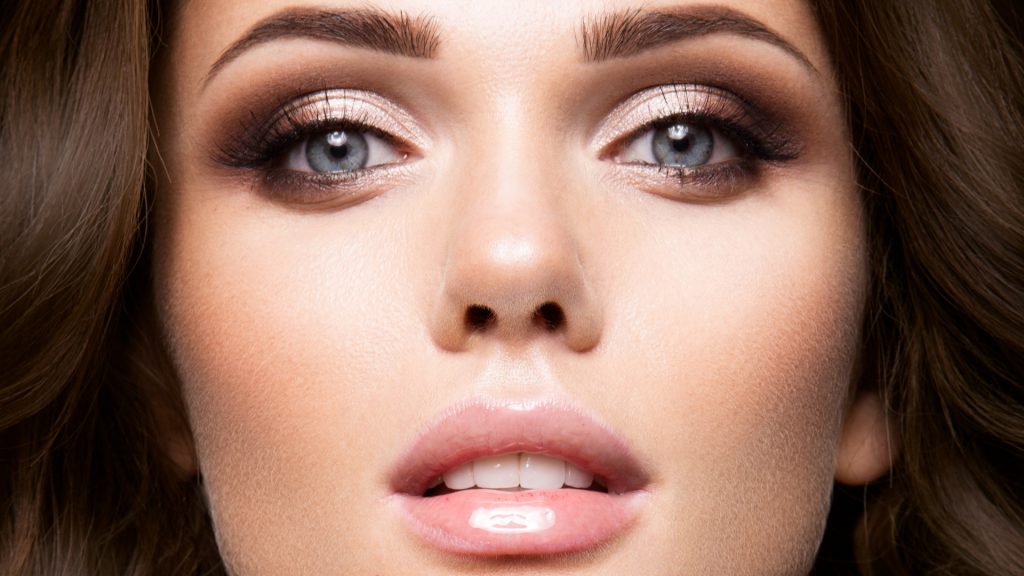 The two make-up ideas are not only suitable for every skin tone but also for women of all age. They are subtle and delicate and at the same time, elegant and feminine.
GLAMOUR CLOSE TO NATURE
1. PREPARATION AND FOUNDATION
Firstly, prep your skin by toning it, add moisturising cream and finally, your favourite base. Next, apply a foundation matched to your skin tone. Remember not to rub it but gently pat into your skin. You can use a sponge or a brush depending on your preference. Then, apply a small amount of rice or powder brush and add some blush to the apples of your cheeks.
You must put an emphasis on your eyelashes. Make sure to use a mascara that allows two layers to exaggerate them more. Additionally, remember to choose a very intense black colour. Apply a nude or peach eyeshadow to the eyelids. Keep in mind that the colour must be toned, natural and most important – matte.
Lips are the most important element in this particular make-up. Make sure to emphasize them with a red lipstick matched to your skin tone. You might add a little burgundy colour, it will make your teeth appear not as yellow as it happens with different shades of orange. The ideal lip product would be matt, it will be more elegant.
CORAL VERSION LIGHT
Prep your skin as usually. Then, in dabbing motions apply your favourite liquid foundation. Next, apply some translucent powder to your face and eyelids. On the lower lash line draw a line in a light rosy colour. Add a nude colour to your waterline.
Using a large brush, add some blush to the apple of your cheeks. This time choose a creamy- coral shade. However, chose the most suitable undertone, with a hint of warm or cool pigment, depending on your skin tone. You might as well add some of the blush to your lips. They might feel a bit dry. Do not worry. Just make sure to apply a generous amount of your favourite nude or colourless lip gloss. Your lips will be moisturised and glossy, just the way you want.
Use a black or brown mascara. It is advisable to apply even two layers to exaggerate the look. However, with such subtle eyeshadows, it is a good idea to put more emphasis on the lips. Apply a lipstick in a shade matched to the blush. This way all the products will correspond with each other and create a nice consistent look.