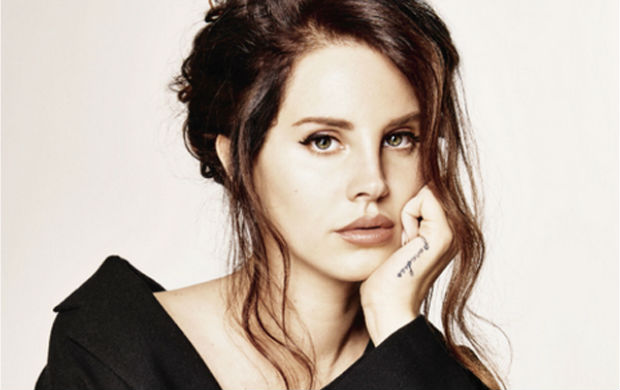 Lana del Rey – is an enigmatic singer with cat eyes and magnetising voice. She promotes not only an irreplaceable music style, but also characteristic look relating to the make-up form the 60s. She is the dark-haired version of Brigitte Bardot. Furthermore, Lana is not afraid of experiments with expressive eye make-up. Her eyelids are often decorated with lines in all shapes and colours, sometimes even double. We want to introduce to you the most classical look in style of this star.
1. Prepare your skin for the make-up. Apply eye shadow base. Eye make-up holds the key role here, because lines have to be bold and expressive. And so, of great relevance is for the make-up to be durable.
2. Apply beige eye shadow with pearl finish on the entire eyelid. Its aim is to highlight the look. Try not to rub the eye shadow, but gently tap it in with the brush.
3. Treat the crease with matte eye shadow with delicate brown colour. Do it precisely and blend it.
4. It is time for the line. This is the strongest accent in the entire make-up and at the same time the "trademark" of Lana del Rey. The line must be thick and expressively stressed in the outer corner of the eye. It follows the style of the 60s.
5. Now reach for small brush, best if it was a pointy brush, for more precise application of eye shadow. Take chocolate brown shade with matte finish and apply it on the crease. This way you will provide look with depth.
6. Apply mascara. If it is a make-up you perform for night out or a date and you like false eyelashes – use them as well.
7. With such an expressive lines, the brows cannot be left unnoticeable, so use some eye brow pencil for them. They must be visible, but not grotesque.
8. Lana has underlined cheek bones. Best for the job will be matte bronzer. Apply it on the cheeks, right under the cheek bones. Next treat cheeks with some highlighter in delicate colour and on lips apply lipstick in natural or nude shade. It is important for lips to be subtle, but not entirely blend with skin. You can underline lips with lip liner and then apply natural lip gloss. Good Luck!