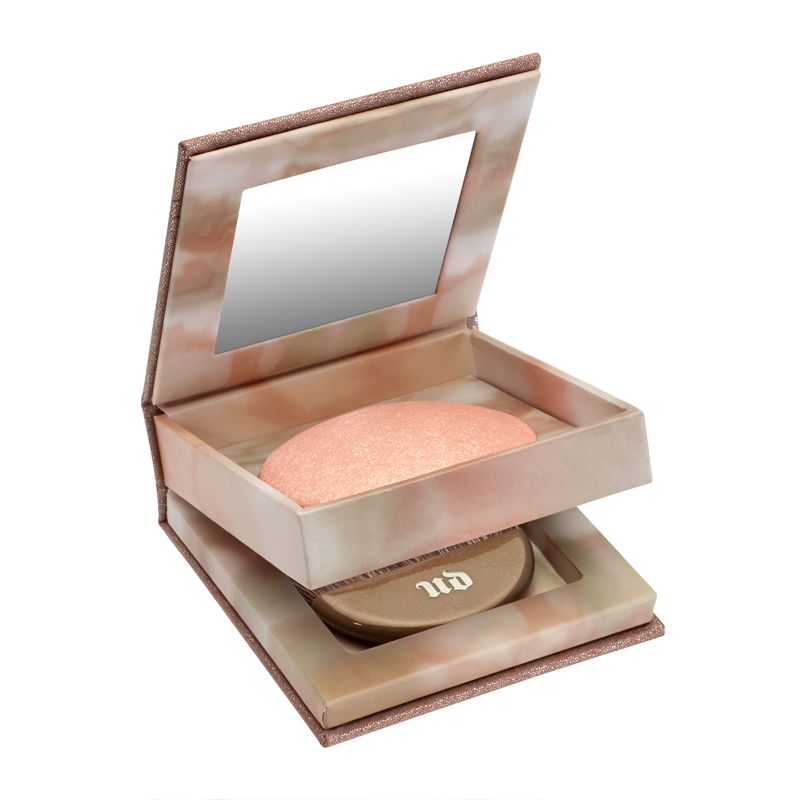 Urban Decay brand knows exactly what to do to make you feel like a movie star in the spotlight. With their Illuminated Shimmering Powder for Face and Body, your skin will shine and look beautiful all day. Choose your favourite shade and check how to correctly apply this amazing product.
Urban Decay offers six shades of the illuminating powder. There are three separate powders called: Aura (shimmering pink), Lit (bronze) and Luminous (shiny pearl) and three combined in one long package: Pyrite (champagne gold), Oasis (natural beige) and Twilight (toned rose). Additionally, in each box you will find a generous mirror and an applicator – flat and wide brush. The last one is housed in a special compartment which is situated directly underneath the powder.
Naked Illuminated Shimmering Powder for Face and Body has a silky smooth and delicate texture. Applied on the face becomes invisible. However, it provides subtle illumination and shine. The production involves a 24-hour baking process on a terra cotta disc which ensures an incredible durability of the product. Additionally, your make-up looks light and natural. Naked Illuminated Powder will not rub off and will stay in one place even during hot summer days. What is more, it blends perfectly with other cosmetics, making your make-up extremely feminine and beautiful.
How to apply Urban Decay Naked Illuminated Shimmering Powder for Face and Body? The biggest advantage of illuminating cosmetic is that they might be applied on different parts of your body, depending on your preference. For example, this shimmering powder will work perfectly as an eyeshadow and can also replace other face brightening products. If you apply the product on the cupid's bow, the skin under and above the eyebrows, bridge of the nose and the tip of the chin, you can be sure that your face will become more beautiful. Cosmetics containing shimmering pigments can be successfully used for contouring the face. Thanks to Urban Decay Naked Illuminated Shimmering Powder for Face and Body your make-up will become perfect and flawless and you will feel pretty and attractive.