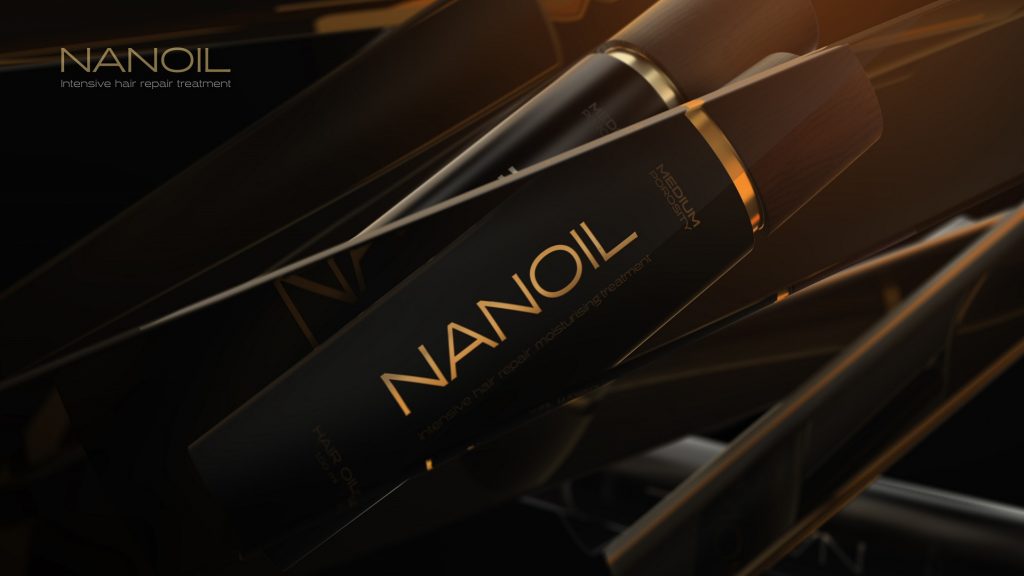 It has only 0.08 mm, but requires great concern and a set of best nutrients. Each hair requires constant and thoughtful care. The solution is right at your fingertips. There are three options to choose from: Nanoil for low porosity hair, Nanoil for medium porosity hair and Nanoil for high porosity hair. All designed for one effect: beautiful and healthy hair.
Even small and thin strand of hair needs our support. However, the treatments should be carefully chosen. Hair burdened with unnecessary silicone will be weakened, and as a result it will fall out. But a touch of natural ingredients, well-composed vegetable oils and valuable additives can make hair regain strength, grow strong and full of vitality.
You might not know how hair is built and what is porosity. You do not have to know these concepts to be able to trust the knowledge and experience of specialists. If you want, all the interesting information on these topics can be found online. If not, it takes just 30 days to discover the true meaning of effective care and feel it on your own skin (and hair). The only tool needed is one of three Nanoil hair oils.
Choose the best option for yourself
There are three Nanoil hair oils – for low, medium and high porosity hair. It is because you can distinguish three types of hair. Starting with the healthiest (and at the same time requiring constant protection) finishing on dry and damaged hair. To match the product to the needs of your hair, you must know that the porosity is also the degree of its destruction. The more damaged the hair, the higher the porosity. Three basic types have their own characteristics, thanks to which they can be identified.
Low porosity hair – heavy, straight, smooth, lacks volume, difficult to style, has the tendency to become oily at the roots and takes a long time to air-dry.
Medium porosity hair – weakened, wavy, with tendency to frizz and static, lacks moisture and shine, thin, with constantly worsening condition
High porosity hair – frizzy, curly, split ends, dehydrated, brittle, dull, rough, faded, thin and sparse, falls out in excess, air-dries quickly.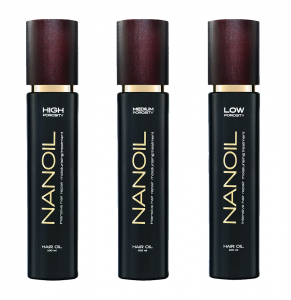 Nanoil Hair Oil. You will love it for…
…. its perfect composition
Nanoil hair oil series consists of three products, each of which has a different purpose and varied ingredients. They all combine naturalness and safety. Nanoil hair oils do not contain any harmful substances like silicones, parabens or alcohol. On the contrary, you buy a set of natural vegetable oils for complementary action. The best quality and the best proportions.
Nanoil for low porosity hair contains 9 vegetable oils: cedar, coconut, argan oil, castor oil, shea, cupuaçu, maracuja, babassu, monoi oil Nanoil for medium porosity hair comprises 6 natural oils: argan, macadamia, marula, maracuja, jojoba, coconut. Nanoil for high porosity hair also consists of 6 oils: almond, evening primrose, passion fruit, argan, avocado, cotton seed.
But that is not all that Nanoil hair oil has to offer. Beneficial effects of natural oils have been reinforced by additional components. In each of the three oil there was room for protective and strengthening substances, vitamins, and innovative technologies. All natural and safe for hair.
All three oils contain Kerastim (against hair loss), Baicapil (for hair growth), vitamin E (anti-ageing) and UV filter (protection). In addition, Nanoil for low porosity hair contains Vitamin A and panthenol. The same vitamin and silk come in Nanoil for medium porosity hair. While Nanoil for high porosity hair is additionally enriched with keratin, panthenol, silk and lanolin.
… its harmonious formula
Is harmony in hair care products very important? Of course. Nanoil hair oils perfectly match hair, adapt to its external structure and easily penetrate the interior. The ideal composition of vegetable oils with a specific content of essential fatty acids is the key to enhance natural strands and reinforce lipid layer of which they are built. Nanoil is a thoughtful formula, adapted to the hair needs that beneficial influence on the source of the problem.
…versatility of use
How to use Nanoil hair oils? Those are the only product that provide such versatility when it comes to the application. You can use them freely, depending on your needs and abilities:
even several times a day to dry or damp hair,
as an additive to other products or a component of homemade cosmetics,
for an in-depth nutrition while performing hair and scalp oiling
just before or one hour prior to washing, or even overnight.
instead of cosmetics that facilitate combing and styling.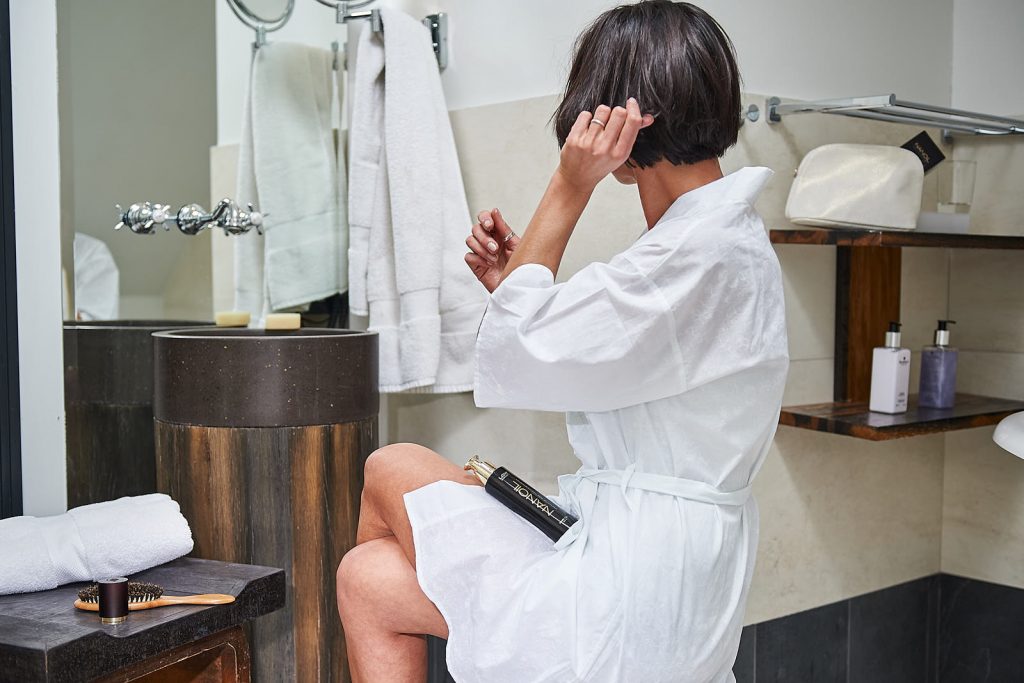 …the packaging
The entire series of Nanoil hair oils looks very elegant. The black bottle with a cylindrical shape is decorated with only a minimal sign. It is crowned with metallic, wide pump in gold and a wooden cap in an eco style. Thick and dark glass is the guarantee of sustainability of the packaging and high quality oils sheltered from sunlight. The packaging of Nanoil hair oils not only looks great, but is very practical and thoughtful in every way, the same as each element of this product.