Limp hair is one of those little snags that make our day a little bit worse. Despite using various styling products, the hair stubbornly remains flat and lifeless. Thankfully, Nanoil found an innovative solution – a volume-boosting spray Nanoil Hair Volume Enhancer. Go on reading to see how many benefits it has for your hair.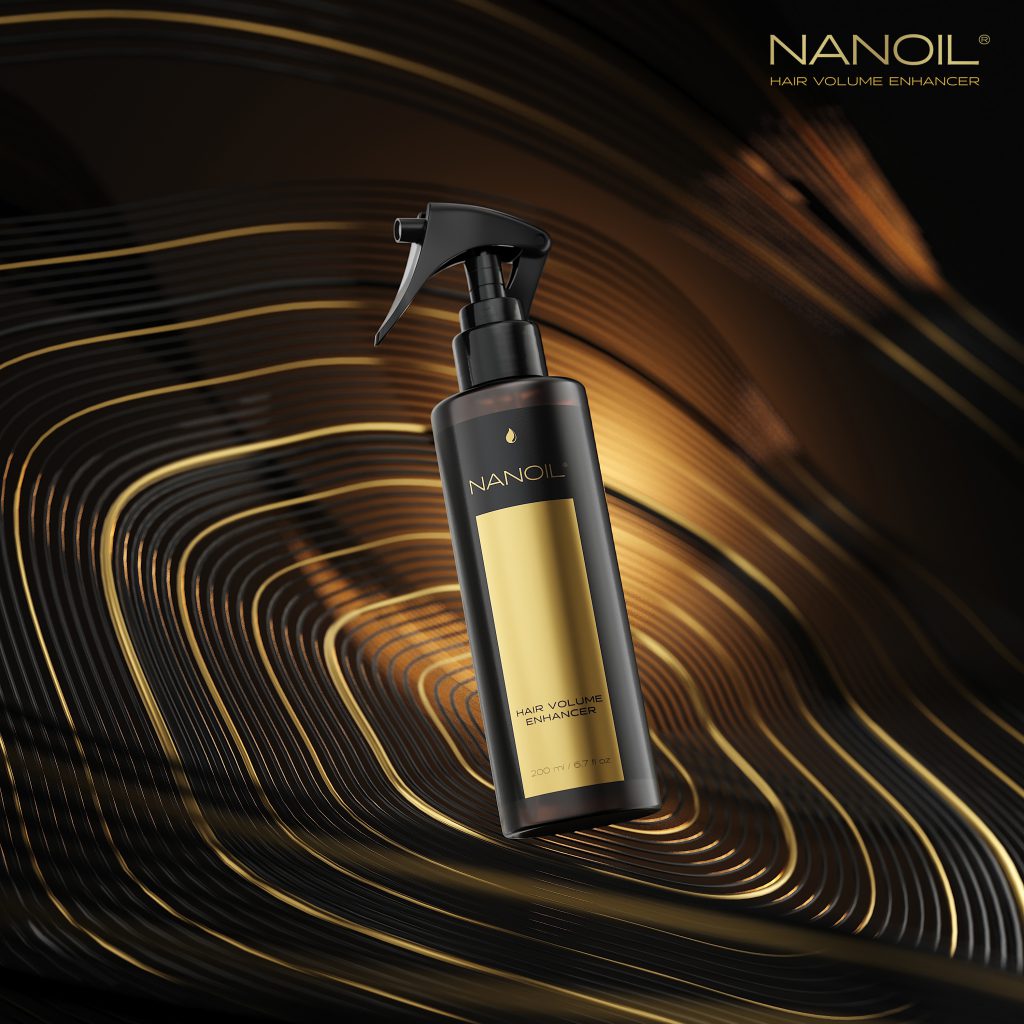 The sad truth is that voluminous styles don't come out of nowhere. You need to learn how to arrange your hair in such a way to make it look bigger than it actually is. In most cases, turning to a specialist is inevitable. The good news, however, is that you can find such a specialist on the Nanoil website, and its name is Nanoil Hair Volume Enhancer. With its help you will effortlessly create voluminous blowouts even if your hair is limp, hard to style and flat.
To understand how Nanoil Hair Volume Enhancer works, we need to go through five aspects connected with using this product.
1. Nanoil Hair Volume Enhancer smooths out the hair, which results in less tangles and increased hair manageability
This spray contains wheat proteins that strengthen hair and lift the roots. They also are responsible for dealing with frizz and static, which helps you regain full control over your wisps. Keratin, which is another important ingredient used in this spray, improves hair structures by adding more body to each and every hair, making it thicker and stronger. Similar effect is produced by panthenol, yet another ingredient that additionally tames unruly tresses, adds shine and smoothness.
2. Nanoil Hair Volume Enhancer makes hair fuller-looking and thicker
As just mentioned, this spray is formulated with natural-derived ingredients that actually make the hair visibly thicker. Interestingly, the spray has zero silicones that are known for dragging hair down. This means that the spray doesn't reduce hair volume even a bit. You won't find dehydrating alcohols either, which is also highly important. Hair must be moisturized to remain thicker and fuller-looking.
3. Nanoil Hair Volume Enhancer lifts roots
Nanoil styling spray works in the area where the problem of flat and limp hair lies – the roots. Volume-deprived hair often looks as if it was stuck to the scalp, and that's why the spray's main goal is to separate the hair from the scalp, by lifting the roots. In this simple way, this product creates a bigger style.
4. Nanoil Hair Volume Enhancer adds instant volume to hair
Nowadays we expect everything to be fast and reliable. That's why Nanoil spray delivers instant results, leaving you with a more voluminous style that lasts all day. Other good news is that you don't need to apply more products than just this one. Spray Nanoil Hair Volume Enhancer over the hair and start arranging a style.
5. Nanoil Hair Volume Enhancer promotes shine and provides protection
Wheat proteins and keratin condition hair, making it stronger and resilient. These two substances also protect the strands from the adverse effects of the sunlight, low temperatures and high humidity. Panthenol leaves hair visibly shinier. Together, they create the formula that makes hair fluffy, elastic and healthy-looking.
The volume-boosting hair spray from Nanoil is available on nanoil.us.