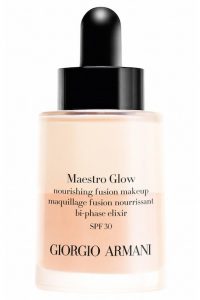 No beauty maniac can just pass by this new cosmetic and remain unimpressed. Why? Well, because the creator of this cosmetic is famous fashion designer, Giorgio Armani in the flesh. Let's see how Maestro Glow Nourishing Fusion Makeup works.
The foundation Maestro Glow Nourishing Fusion Makeup is recommended to every woman, no matter skin type. It has liquid consistency; for application is dedicated a pipette for easier dosing. Before application you need to shake the bottle. With use of a foundation brush stamp the face, then thoroughly spread cosmetic on the skin. Remember to fix your make-up with powder. Maestro Glow Nourishing Fusion Makeup has lightweight formula and very fresh fragrance. On top of that, it contains shimmering particles for more radiant skin. The foundation is placed in a bottle with volume of 30 ml/1 oz.
The foundation from Giorgio Armani consists of SPF 30. It protects skin against sun radiation, discolourations and photo-ageing. Furthermore, this cosmetic does not clog pores or cause blackheads. It perfectly moisturises and nourishes, but also conditions sensitive and dry skin. If you have oily skin, then to fix Maestro Glow Nourishing Fusion Makeup in T-zone use transparent powder. This foundation does not weight down or create smudges and spots, but has very light formula. Remember to thoroughly rub it near hair line, jaw line, neck and ear lobes. Its shade will adjust to the skin complexion and perfectly compose with other cosmetics. It will lighten the skin and make it appear more radiant, beautiful and fresher. The cosmetic from Giorgio Armani provides medium coverage. If you deal with discolourations, prior to foundation apply some concealer.
Maestro Glow Nourishing Fusion Makeup is available in eight shades. You can choose out of beige, light and dark brown. Manufacturer recommends to use Maestro UV, which is cosmetic with sun filter, prior to proceeding with make-up. If you care about camouflage of all imperfections, use Fluid Sheer from Giorgio Armani.